001 Machine is a front idler factory in China. We focus on OEM OM excavator front idler and bulldozer idler manufacturing. We are here to bring together construction machinery undercarriage parts and replacements. Including but not limited to Front Idler Group, excavator undercarriage spare parts, bulldozer parts, and different brand machinery replacements. Here we are going to show you our reliable capability.
We will do everything we can just to keep every buyer got the max benefits and trouble-free. Whether you are for group or individual sourcing, we will provide you with the highest quality parts in China to enhance your sourcing performance in the business line of manufacturing & processing machinery.
001 Machine abundant projects management experiences. And 1 to 1 provider model makes the high importance of business enterprise communication. We can easily understand your expectations for Front Idler Assembly, Excavator Drive Sprockets, Carrier Roller, Single Flange Track Roller, Tracking group Link, and Bucket Assembly Parts.
We invite you and your company to thrive together with us. So we can share a foreseeable future in the worldwide marketplace. Our product will supply to all over the world in more than sixty countries and different regions. Such as in America, Europe, Australia, Southeast Asia, Africa, Eastern Europe, Nigeria, Belarus, Mexico, and Russia. We sincerely hope to establish wide contact with all potential customers all over the world.
What is a Front idler?
Front idler, which is also called idler group, idler assy, or idler wheel, is one part of undercarriage parts for crawler heavy equipment. such as excavator, bulldozer, crane, and drilling machine. It is consist of an idler shell, shaft, brackets, Bi-metallic Bearings, and seal group.
It is made by casting or forging, machining, heat treatment, assembly, painting, etc.
The quality and working life depend on the quality of raw steel, the hardness of the rail surface, the depth of the hardness layer, and the quality of the seal group.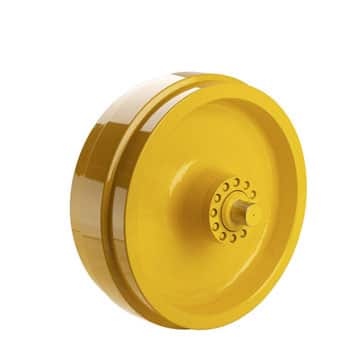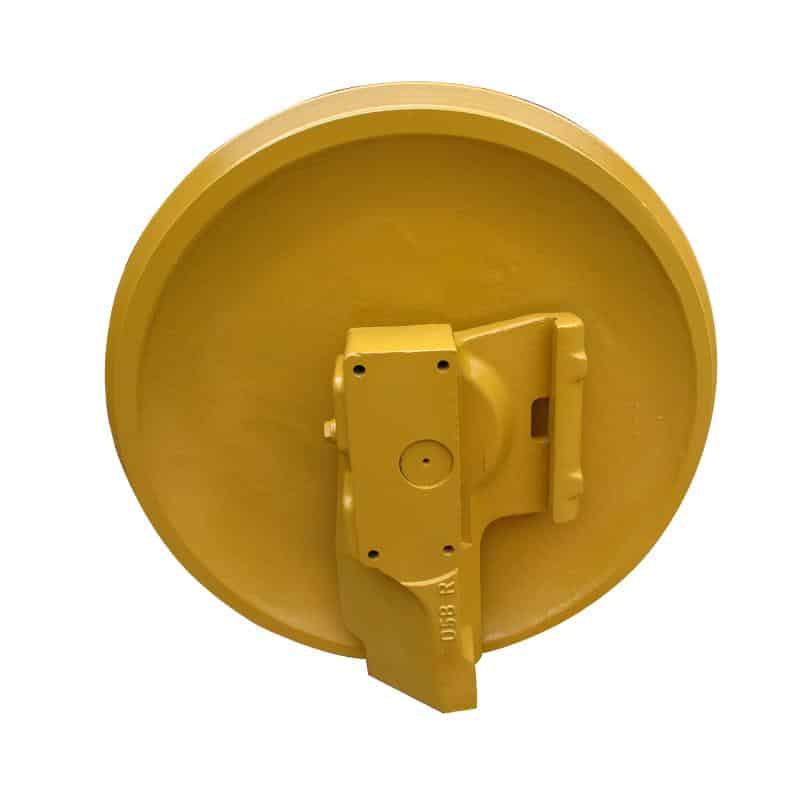 Front Idler breakdown structure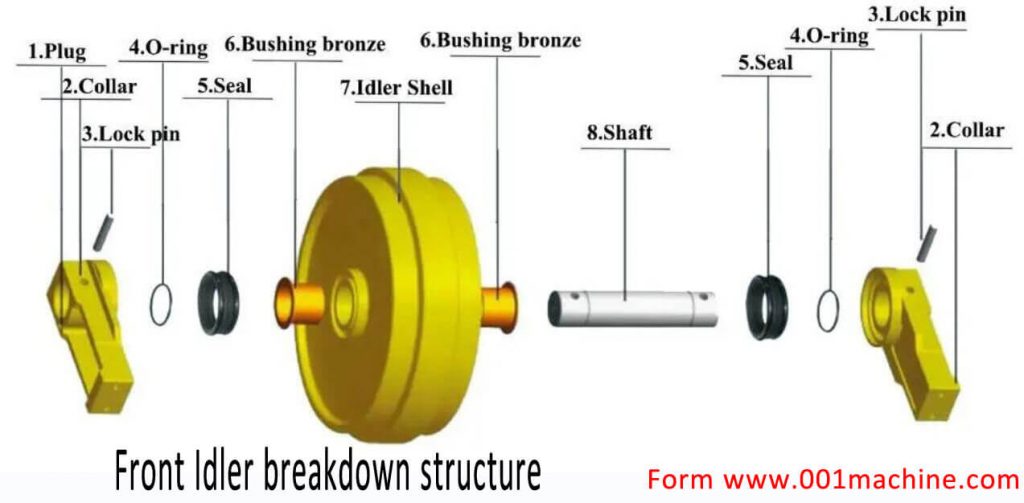 Front Idler Factory Manufacturer Supplier – 001 Machine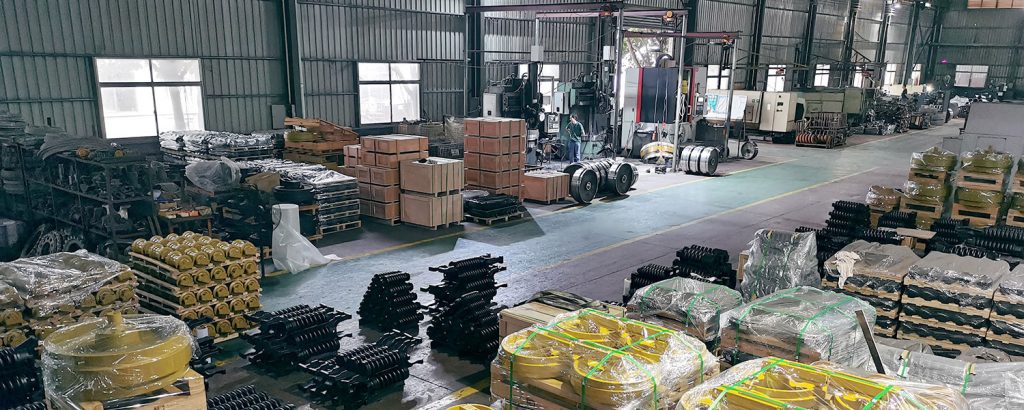 Front Idler Processing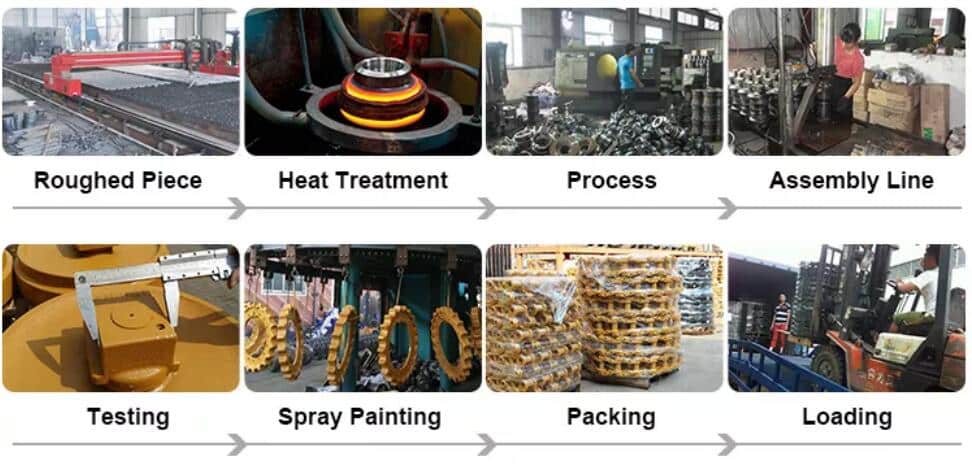 Popular brand product
FOR HITACHI EX40-1EX40-2EX55EX60EX60-2EX60-3EX60-5EX70EX75EX100EX110EX120EX120-1EX120-2EX120-3EX120-5EX130-1EX200-1EX200-2EX200-3EX200-5EX220-3EX220-5EX270EX300EX300-1EX300-2EX300-3EX300-5EX300AEX330EX370EX400-1EX400-2EX400-3EX400-5EX450ZAX30ZAX55ZAX200ZAX200-2ZAX330ZAX450-1ZAX450-3ZAX450-5ZX110ZX120ZX200ZX200-1ZX200-3ZX200-5GZX200LC-3ZX210ZX210-3ZX210-5ZX225ZX240ZX250ZX270ZX300ZX330ZX330CZX350ZX450ZX450LCZX500ZX500LCZX520ZX670ZX690ZX870ZX130ZX170ZX170LCZX195ZX260ZX360ZX360LCZX400ZX470ZX490
FOR KOMATSU(EXCAVATOR)PC20-7PC30PC30-3PC30-5PC30-6PC40-7PC45PC45-2PC55PC120-6PC130PC130-7PC200PC200-1PC200-3PC200-5PC200-6PC200-7PC200-8PC210-6PC220-1PC220-3PC220-6PC220-7PC220-8PC270-7PC202BPC220LC-6PC220LC-8PC240PC300PC300-3PC300-5PC300-6PC300-7PC300-7KPC300LC-7PC350-6/7PC400PC400-3PC400-5PC400-6PC400LC-7PC450-6PC450-7PC600PC650PC750PC800PC1100PC1250PC2000PC360PC460
FOR KOMATSU(BULLDOZER)D20 D31D50D60D61D61PXD65AD65PD64P-12D80D85D155D275D355D85PXD85EXD65EXD65PXD65ED68D68ESSD75D75SD85ESSD155D155AD155AXD275D275AXD355D475    
 FOR CATERPILLAR(EXCAVATOR)E200BE200-5E320DE215E320DLE324DE324DLE329DLE300LE320SE320E320DLE240E120-1E311E312BE320BLE345E324E140E300BE330CE120E70E322CE322BE325E325LE330E450CAT225CAT312BCAT315CAT320CAT320CCAT320BLCAT330CAT322CAT245CAT325CAT320LCAT973 CAT939CCAT963CCAT313CAT323CAT318CAT326CAT328CAT329CAT336CAT340CAT345CAT349
FOR CATERPILLAR(BULLDOZER)D3D3BD3CD3DD4D4CD4DD4ED4HD5D5BD5CD5DD5HD5MD6D6CD6DD6HD6MD6RD6GD6ND7D7CD7DD7ED7FD7GD7HD7RD8D8RD8ND8HD8TD8LD8KD8GD8MD9D9LD9ND9RD9TD10D10RD10ND10TD11D11RD11N  
FOR KOBELCOSK120-6SK120-5SK210-8SK210LC-8SK220SK220-1SK220-3SK220-5/6SK200 SK200SK200 SK200-3SK200-6SK200-8SK200-5/6SK60SK290SK100SK230SK250SK250-8SK260LC-8SK300SK300-2SK300-4SK310SK320SK330-8SK330SK350LC-8SK235SRSK450SK480SK30-6
  FOR SUMITOMOSH120 SH120-3SH200SH210-5SH200SH220-3SH220-5/7SH290-3SH350-5/7SH220SH280SH290-7SH260SH300SH300-3SH300-5SH350SH60
FOR VOLVOEC160CEC160DEC180BEC180CEC180DEC210EC210EC210BEC240BEC290EC290BEC240EC55EC360EC360BEC380DEC460EC460BEC460CEC700EC140EC140BEC160BEC350EC350DLEC480EC340
FOR LIEBHERRR914R924R934R944R916R926R936R954R966R974R984       
FOR KUBOTAJH60-7JH115JH135JH161JH185    
FOR DAEWOODH200DH220-3DH220DH220SDH280-2DH280-3DH55DH258DH130DH370DH80DH500DH450DH225DH150DH330DH400DH580
FOR HYUNDAIR60-5R60-7R80-7R200R200-3R210R210-1R210-9R210LCR210LC-7R225R225-3R225-7R250R250-7R290R290LCR290LC-7R320R360R954R205R210-5R215R230R235R275R300R385R485     
 FOR KATOHD512HD1430HD512IIIHD820IIIHD820RHD1430IIIHD700VIHD1250VIIHD250SEHD400SEHD500SEHD1880     
 FOR DOOSANDX225DX225LCDX258DX300DX300LCADX420DX430DX140DX150DX220DX250DX255DX260DX370DX480DX520  
FOR SHANTUISD13-2DH16J2XLDH16J2LGPSD16SD22SD32   
FOR CASECX210CX210BCX210CCX210DCX210LCCX225CX235CX235CCX240CX240CCX245CX250CX250CCX300CX300CCX330CX330CCX350CX350CCX460CX460LCCX470CX470CCX490CX490DCX700CX700BCX750CX750D       
FOR JCBJS200JS200SCJS210JS210SCJS220JS220LCJS230JS230LCJS240JS240LCJS290JS290LCJS300JS300LCJS330JS330LC  
FORXCMGXE55DAXE60DAXE65DAXE75DAXE80CXE80DXE85CXE85DXE135DXE155DKXE150DXE155DXE200DAXE200DXE200CXE205DAXE215DAXE215CXE215DXE215HBXE225DKXE230CXE245DKXE240DXE260CXE265CXE270DKXE305DXE335DKXE335CXE370DXE370DKXE370CAXE370CXE380DKXE470DXE490DKXE490CKXE500HBXE520DKXE550DKXE750DXE750GXE950DXE950GXE950DAXE55XE60XE65XE75XE80XE85XE135XE150XE155XE200XE205XE215XE225XD230XE240XE245XE260XE265XE270XE305XE335XE370XE380XE470XE490XE500XE520XE550XE750XE950     
FOR MITSUBISHIMS30MS110MS110-3MS110-5MS110-8MS180 
  FOR SAMSUNGSE210SE280SE320     
 FOR IHIIHI35IHI50IHI55IHI60IHI75    
FOR YMMAYM15YM30YM35YM55YM65YM85   
FOR LIUGONGLG906CLG907LG200LG220LG925LG934   
FAQ on Front Idler
Related Products