001 Machine is a Sprocket Factory and manufacturer in China. We focus on OEM OM Excavator Sprocket supplying and Bulldozer Sprocket exporting. We are here to bring together construction machinery undercarriage parts and replacements. Including but not limited to Front Idler Group, excavator undercarriage spare parts, bulldozer parts, and different brand machinery replacements. Here we are going to show you our reliable capability.
We will do everything we can just to keep every buyer got the max benefits and trouble-free. Whether you are for group or individual sourcing, we will provide you with the highest quality parts in China to enhance your sourcing performance in the business line of manufacturing & processing machinery.
001 Machine abundant projects management experiences. And 1 to 1 provider model makes the high importance of business enterprise communication. We can easily understand your expectations for Front Idler Assembly, Excavator Drive Sprockets, Carrier Roller, Single Flange Track Roller, Tracking group Link, and Bucket Assembly Parts.
We invite you and your company to thrive together with us. So we can share a foreseeable future in the worldwide marketplace. Our product will supply to all over the world in more than sixty countries and different regions. Such as in America, Europe, Australia, Southeast Asia, Africa, Eastern Europe, Nigeria, Belarus, Mexico, and Russia. We sincerely hope to establish wide contact with all potential customers all over the world.
What is a Sprocket?
Sprockets and segments are also known in the branch as cogwheels. They run between the excavator or bulldozer chain links. Work with the tracks to move the machine forward. Moreover, this undercarriage component runs over the bushing that connects the two links of a chain. The cogwheel is installed around the machine's drive gear and only serves to drive the chain, so it does not bear any of the machine's weight.
001 Machine sprockets can be used in excavators, bulldozers, and other construction machinery. Such as Komatsu, Caterpillar, Hitachi, Sumitomo, Kobelco, Kato, Daewoo, etc.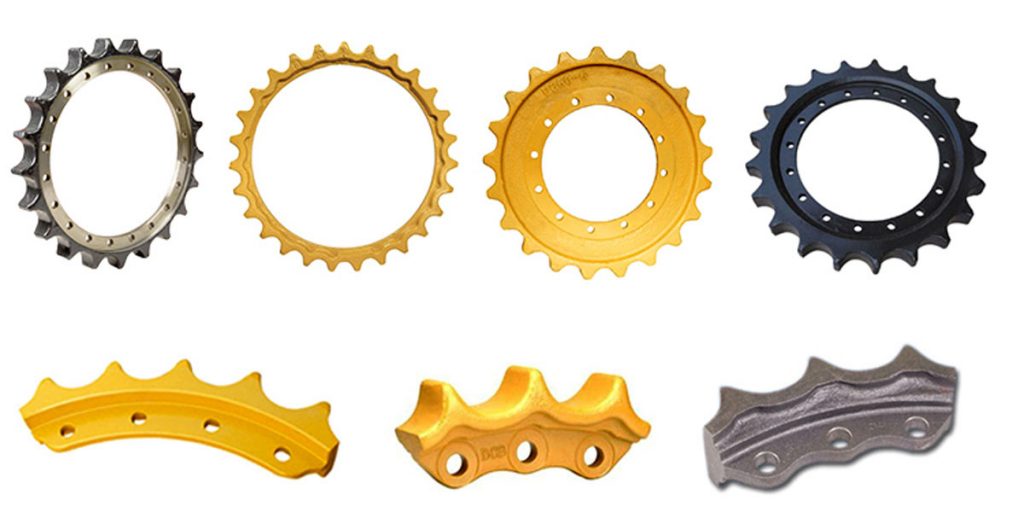 Sprocket Drawing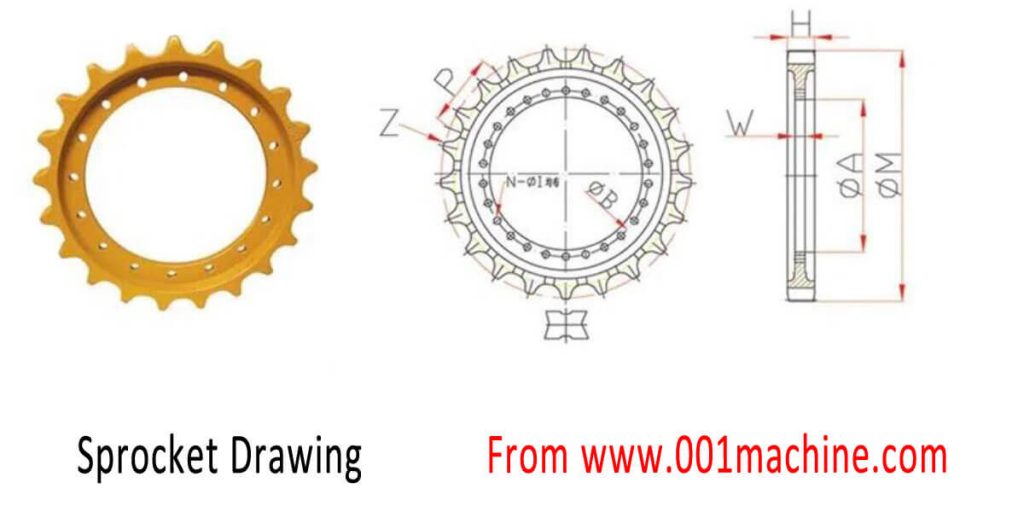 Sprocket Factory Manufacturer Supplier – 001 Machine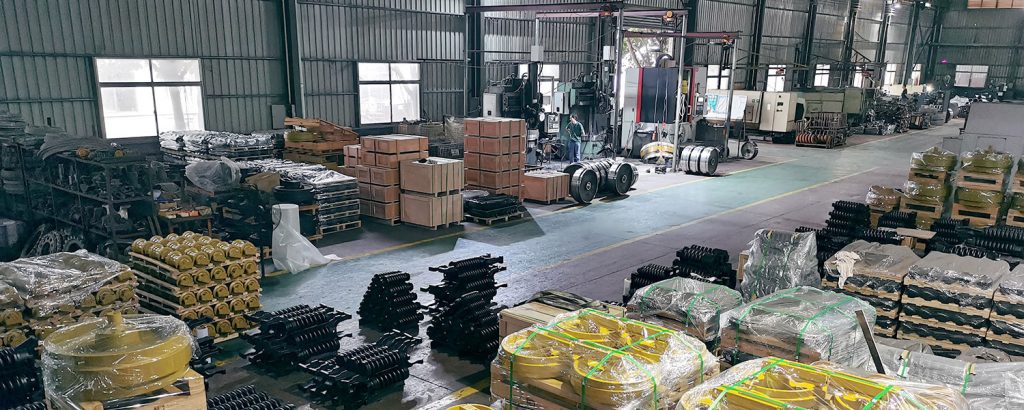 Process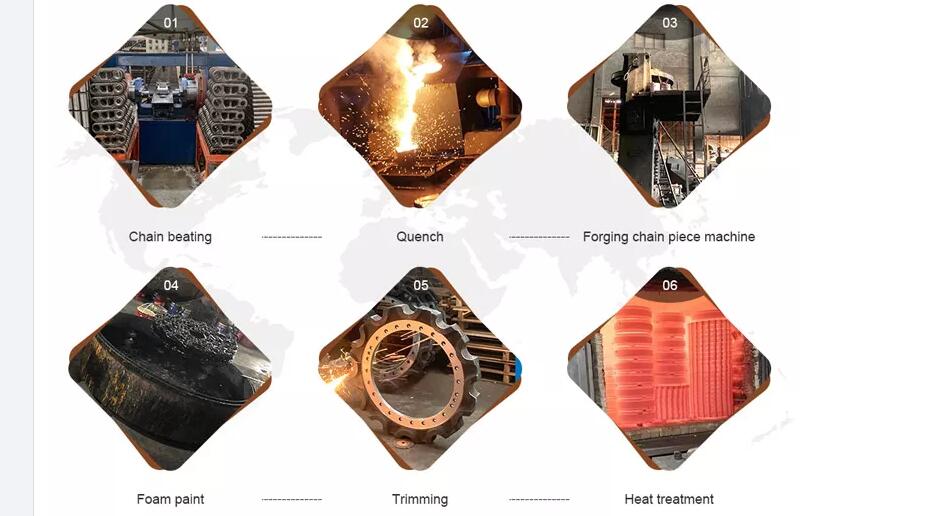 Popular brand product
KOMATSU
| | | | | |
| --- | --- | --- | --- | --- |
| PC20 | PC30 | PC35 | PC40 | PC45 |
| PC60-1-3-5-6-7 | PC75 | PC100-3-5 | PC120-3-5 | PC150 |
| PC200-1-3-5-6-7-8 | PC220-1-3-5-6 | PC300-1-3-5-6-7 | PC350 | PC400-3-5-6 |
CATERPILLAR
| | | | | |
| --- | --- | --- | --- | --- |
| E55/E55B | E70/E70B | E110/E110B | E120/E120B | E180 |
| E215 | E225DLC | E235 | E240 | E300B |
| E307 | E300J | E305 | E311/E312 | E320/E200B |
| E322 | E324 | E325 | E330 | E339 |
| E345 | E450 | _ | _ | _ |
HITACHI
| | | | | |
| --- | --- | --- | --- | --- |
| EX30 | EX40 | EX55 | EX60-1-2-3-5 | EX70 |
| EX100-1-3 | EX120-1-3-5 | EX150 | EX200-1-2-3-5-8 | EX220 |
| EX230 | EX270 | EX300-1-2-3-5-6 | EX400-1-2-3-5 | EX600 |
| UH043 | UH052 | UH053 | UH07 | UH081 |
| UH082 | UH083 | ZAXIS 60 | ZAXIS 200-3-6 | ZAXIS 240 |
| ZAXIS 270 | ZAXIS 330 | ZAXIS 360 | ZAXIS 450 | ZAXIS 870 |
| ZAXIS 110 | ZAXIS 120 | _ | _ | _ |
BULLDOZER
| | | | | |
| --- | --- | --- | --- | --- |
| D20 | D3 | D30 | D31 | D3L |
| D3C | D37 | D3D | D4C | D40 |
| D4D | D4H | D41 | D45 | D50/D5/D5B |
| D53/D57/D58 | D60/D65 | D6D/D6 | D6C | D6H |
| D65=D85ESS-2 | D75 | D7G/D7 | D80/D85 | D85A-12 |
| D8K | D8N | D9N | D135 | D150 |
| D155 | D255 | _ | _ | _ |
KATO
| | | | | |
| --- | --- | --- | --- | --- |
| HD80 | HD140 | HD250 | HD400(HD450) | HD550 |
| HD700(HD770) | HD820(HD850) | HD880 | HD900 | HD1023 |
| HD1220 | HD1250 | HD1430 | HD2053 | _ |
SUMITOMO
| | | | | |
| --- | --- | --- | --- | --- |
| SH60 | SH70 | SH100 | SH120 | SH200 |
| SH210 | SH220 | SH280 | SH300 | SH320 |
| SH350 | SH360 | SH400 | SH450 | SH460 |
| LS2800FJ | S340 | S430 | _ | _ |
KOBELCO
| | | | | |
| --- | --- | --- | --- | --- |
| SK60 | SK70 | SK75 | SK07-N2 | SK07/2/7 |
| SK100 | SK120-3-5-6 | SK125 | SK160 | SK200-1-3-5-6-8 |
| SK210 | SK220-3-6 | SK230 | SK250 | SK260 |
| SK300-3-6 | SK320 | SK330 | SK400 | SK450 |
DAEWOO
| | | | | |
| --- | --- | --- | --- | --- |
| DH55 | DH60 | DH80 | DH130 | DH150 |
| DH200 | DH220 | DH215 | DH220 | DH258 |
| DH280 | DH300 | DH360 | DH370-9 | DH400 |
| DH420 | DH500 | UH07 | K907C | _ |
HYUNDAI
| | | | | |
| --- | --- | --- | --- | --- |
| R60 | R80 | R130-5-7 | R150 | R200 |
| R200-5 | R210 | R210-7 | R215-7 | R220-5 |
| R225-7 | R260-5 | R265 | R290 | R300-5 |
| R305 | R320 | R385 | R420 | R450-3-5 |
VOLVO
| | | | | |
| --- | --- | --- | --- | --- |
| EC55B | EC140B | EC210 | EC240 | EC290B |
| EC290B PRIME | EC360 | EC460 | EC700 | _ |
KKUBOTA
| | | | | |
| --- | --- | --- | --- | --- |
| U10 | U20 | U25 | KX35 | KX50 |
| KX61-2/-3 | KX71-2/-3 | KX85 | KX135 | KX155 |
| KX161 | KX121 | _ | _ | _ |
YUCHAI
YANMAR
SAMSUNG
| | | | | |
| --- | --- | --- | --- | --- |
| SE210LC | SE210LC | SE210LC | SE210LC | SE210LC |
BOBCAT
TAKEUCHI
| | | | | |
| --- | --- | --- | --- | --- |
| TB108 | TB016 | TB125 | TB145 | TB250 |
MITSUBISHI
| | | | |
| --- | --- | --- | --- |
| MS110/MS120 | MS180 | MS230 | MS280 |
LOADER
FAQ on Sprockets
Related Products